Licenseplate holder (PR)
2006-07-21 - Highlight for BMW R1200S
Ritzenried. Our very light and shapely licence plate mounting is made of aluminium and covered either in black or natural colour.
Includes pre-assembled licence plate light, adapter plate, small, color-coordinated LED turning signals and a reflector which can be mounted optionally.
Have a look at the article!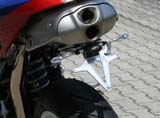 Printable Picture
Motorradzubehör Hornig GmbH
Hochwiesenweg 2
D-93458 Eschlkam/Ritzenried
Germany
Fon: 0049 9948 1070
Fax: 0049 9948 9559775
WE MOVED!!
Our new address is:
Motorcycle Parts Hornig GmbH
Gewerbepark Chammünster Nord C 5
D - 93413 Cham
Tel: 0049 9971/996610
Fax: 0049 9971/9966110
Back to news