You can find all shipping costs
here
.
Payment methods:
- Cash in advance (bank transfer)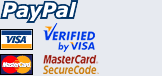 Payment via PayPal VISA Mastercard
We ship with

The delivery in foreign countries will be usually made by their local partner, for example:
Australia: Australian Post
Ireland: An Post
South Africa: SAPO
UK: Royal Mail
USA: USPS
We offer:
- 14 days money back!
- 1 year guarantee!
- Insured shipping
- DHL tracking link via email
after your package was shipped
Your privacy is very important to us. For more information read
data protection
.
Our address:
Motorcycle Parts Hornig GmbH
Gewerbepark Chamm. Nord C 5
93413 Cham
Germany
Tel: +49 (0)9971-99 66 10
* DHL standard shipping times in working days (no guarantee). In exceptional cases it can also take longer until delivery!