Latest Product Reviews
---
Rating:
The average product rating is 4,91 / 5:
(2589 Ratings)

---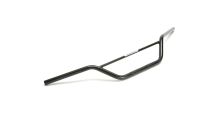 Handlebars GS for BMW R 100 Model
High quality , perfect fit

---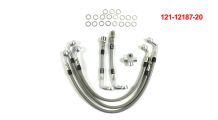 Brake lines for BMW R1100RT, R1150RT
Perfect brake pipe kit for my 2001 r1150rt. Replaced all the original hoses on the bike. Brakes work perfectly. Highly recommended.

---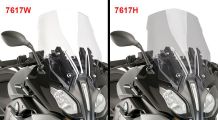 Touring windshield for BMW R 1200 RS, LC (2015-)
A straight swap for the original one easy to fit virtually cut out wind buffering and noise on the highest setting I can right now with the visor up and hear the engine

---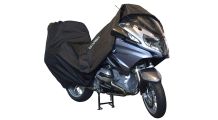 Top Case Outdoor Cover for BMW R 1250 RT
This is a well made product and fits my BMW R1250RT LE perfectly. Lovely soft interior and waterproof although do get e dew layer when it is wet and colder. This dries out very quickly . It has protected the bike perfectly and no worries if the cat ...

---
Motorcycle Accessory Hornig News
---
2022-09-13
Tank bag 7L
for BMW R18 & S1000R (2021- )
---
2022-08-25
Touring windshield
for BMW S1000R (2021- )
---
2022-08-18
Stainless steel crash bars
for BMW R18 First Edition, Classic, Bagger & Transcontinental
---
2022-08-02
BMW S1000R (2021) conversion by Hornig
More comfort, safety and individuality
---
2022-07-21
Frame Covers
for BMW R18
---
2022-06-23
Free tickets for INTERMOT 2022
JOIN NOW - IT'S ALL RIDE!
---
2022-06-15
Sport windshield
for BMW S1000R (2021- )
---
2022-05-12
Adapter for tubular handlebar fixation
for BMW motorcycles
---
2022-04-21
Handlebar Risers with Offset
for BMW R1250RT (2021- )
---
2022-04-14
Side stand foot enlargement
for BMW S1000R (2021- )
---