How can I order?
2007-04-13 - Instructions for ordering
First of all, choose "Products" in the upper column on the start page (1). Then you can choose your model by having a click on the small pictures (2). If your model isn't there just have a closer look on the column on the left.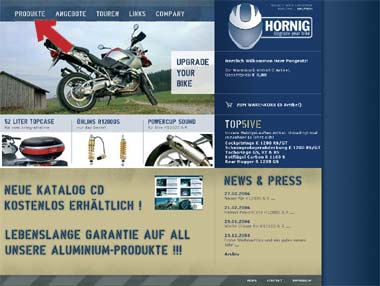 Printable Picture (1)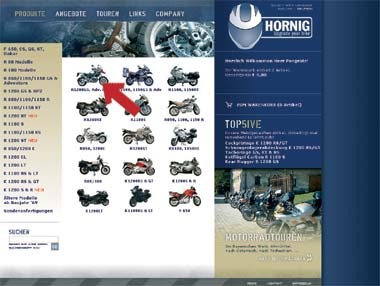 Printable Picture (2)
Now there are shown all products which fit your bike, but still arranged in categories like "aluminium parts", "windshilds" etc. (3).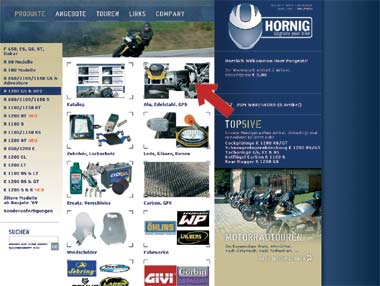 Printable Picture (3)
Choose one categorie and then the product you are interested in (4).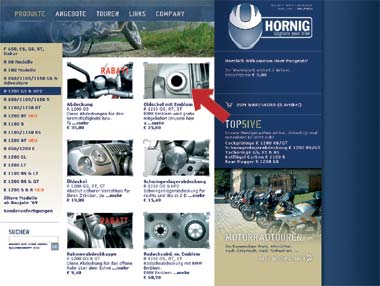 Printable Picture (4)
Here you find one or more pictures of the product, a describing text and other details like the size, article number and the price. You can also see if the article is immediately available or not and you'll find information about the methods of payment and the shipping costs. If you would like to buy that product, go to the small shopping cart under the price. (5).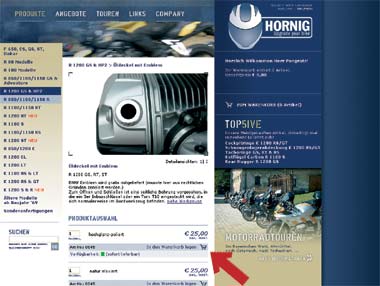 Printable Picture (5)
Now a new page opens - which shows you the shopping card with the products you have put into the cart and, on the left side, extra details like 14-day money back, 2 years guarantee, of course the privacy of your data is very important and all your entries will be sent SSL encrypted. (6)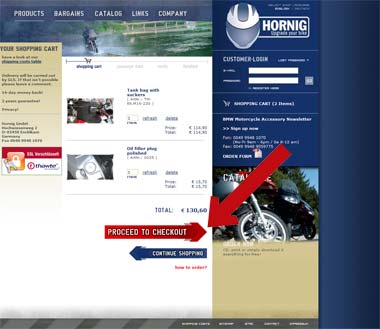 Printable Picture (6)
Here, you can also choose if you want to "Continue Shopping" or "Proceed to Checkout".
If you want to complete the action, press the button "Proceed to Checkout". You get to the next page (7), where you simply click on the red arrow "NEW CUSTOMERS" and then you'll see the form where you enter your address and the method of payment. (8)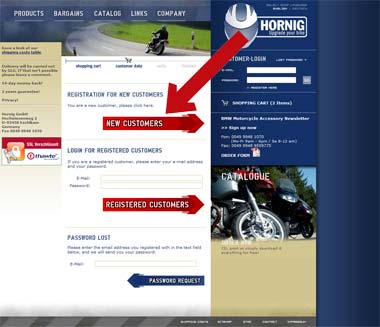 Printable Picture (7)
(8) Here you have to fill all places marked with a *, then decide the way of delivery, agree to the GTACs and just some seconds later after you clicked on "VIEW THE SUMMERY" you'll see the summary of your order (9).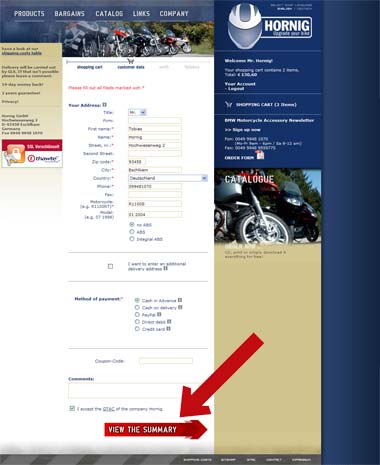 Printable Picture (8)
(9) On this page you can check your entries again and change them if neccessary. You'll also see in this summary the shipping costs for your order (this is only here possible because we need to know where to ship). With one click on the arrow "ORDER NOW!" the order will be sent to you and to us.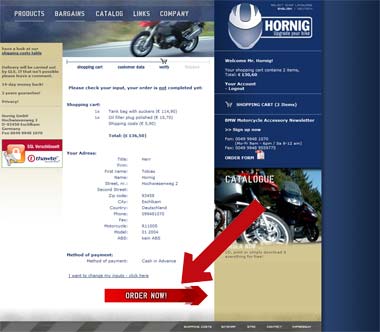 Printable Picture (9)
Motorradzubehör Hornig GmbH
Hochwiesenweg 2
D-93458 Eschlkam/Ritzenried
Germany
Fon: 0049 9948 1070
Fax: 0049 9948 9559775
WE MOVED!!
Our new address is:
Motorcycle Parts Hornig GmbH
Gewerbepark Chammünster Nord C 5
D - 93413 Cham
Tel: 0049 9971/996610
Fax: 0049 9971/9966110
Back to news