BMW F900R & F900XR by Hornig
In diesem Newsletter finden Sie:
- BMW F900R & F900XR by Hornig
Sollten Sie Anregungen für uns haben, oder Vorschläge, welche Themen wir in einem der nächsten Newsletter behandeln sollen, schreiben Sie uns einfach an
info@mhornig.de
---
BMW F900R & F900XR by Hornig
with this newsletter we would like to draw your attention to some of our most recent news, which could be interesting for you and your readers. You can also visit our social media appearances on Facebook, Instagram and Twitter.
---
We celebrate our 20th anniversary in 2021!
Of course, we would have gladly welcomed you personally at our anniversary celebration - unfortunately this has to be canceled due to the corona virus pandemic.
As a little consolation, we have considered organizing a "virtual trade fair" and are continuing in this newsletter with the presentation of our BMW F900XR and F900R which we have equipped with many useful accessory products and individual details.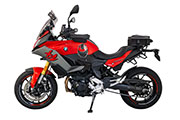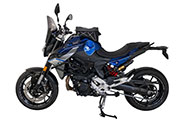 Watch the F900XR and F900R video here:
https://www.youtube.com/watch?v=5gsRcHkxnWA
And here you can find all information about our F900XR and F900R:
http://www.mhornig.com/Company.html?newsid=453
http://www.mhornig.com/Company.html?newsid=454
(press release and printable pictures)
---
Fork Crash Protectors
for BMW RnineT (2021- ), RnineT Scrambler (2021- ), Pure (2021- ) & Urban G/S (2021- )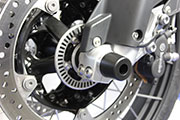 These crash protectors for forks are made of cnc lathed plastic (POM). The mounting is made of cnc milled and anodized aluminum. These crash protectors provide additional protection for your fork. Shipment includes the crash protectors (left and right) and the mounting.
Fork Crash Protectors for BMW RnineT (2021- ), RnineT Scrambler (2021- ), Pure (2021- ) & Urban G/S (2021- )
68,90 Euro (incl. VAT) plus shipping
http://www.mhornig.com/Company.html?newsid=455
(press release and printable pictures)
---
Facebook:
https://www.facebook.com/Motorcycleparts.Hornig
YouTube:
http://www.youtube.com/user/MrHornig
Instagram: hornig.motorcycle.parts
https://www.instagram.com/hornig.motorcycle.parts/
---
Your readers could also be interested in:
New BMW motorcycle accessory catalogue by Hornig
http://www.mhornig.com/Company.html?newsid=452
Centre cap top yoke for BMW R18
http://www.mhornig.com/Company.html?newsid=447
Windscreen V-Stream for BMW S 1000 XR (2020- )
http://www.mhornig.com/Company.html?newsid=449
Covers fairing crash bars for BMW R1250GS Adventure
http://www.mhornig.com/Company.html?newsid=446
---
Mit freundlichen Grüßen,
Motorradzubehör Hornig GmbH
Gewerbepark Chammünster Nord C 5
93413 Cham
http://www.mhornig.de
Geschäftsführer: Hornig Helmut
Regensburg HRB 10330
Ust.Id.Nr. DE251397246
Tel: 09971 99 66 10
Fax: 09971 99 66 110
Zurück zur Newsletter-Übersicht