Tank bag & handlebar bag for BMW R18
In diesem Newsletter finden Sie:
- Tank bag & handlebar bag for BMW R18
Sollten Sie Anregungen für uns haben, oder Vorschläge, welche Themen wir in einem der nächsten Newsletter behandeln sollen, schreiben Sie uns einfach an
info@mhornig.de
---
Tank bag & handlebar bag for BMW R18
with this newsletter we would like to draw your attention to some of our most recent news, which could be interesting for you and your readers. You can also visit our social media appearances on Facebook, Instagram and Twitter.
---
Tank bag
for BMW R18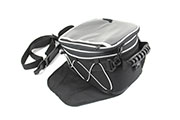 With 10-15 litres volume and with a big map pouch. There is a small side bag on the left and on the right side. You can enlarge the tank bag from 16 cm to 26 cm height. The tank bag can easily be removed from the mounting plate for example to fuel the bike. The tank bag is available with two different mounting plates, one with suckers and one with magnets. It is also equipped with a handle and a removable belt. The bag is waterproof, but if you ride for hours in a rainstorm a water protection would be useful.
Sizes (L x W x H): ca. 30 x 24 x 16 cm
Tank bag for BMW R18
109,00 Euro (incl. VAT) plus shipping
http://www.mhornig.com/Company.html?newsid=462
(press release and printable pictures)
---
Handlebar bag
for BMW R18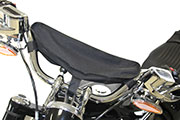 Small, smart bag for double-butted handlebars. This will let you keep small items within a hands reach. Particularly well suited for bandages or a patch kit. The bag is secured with two elastic straps and three Velcro straps.
Colour: black
Dimensions (L x W x H): 5 x 36 x 8 cm
Volume: approx. 1 L
Water resistant!
Handlebar bag for BMW R18
25,00 Euro (incl. VAT) plus shipping
http://www.mhornig.com/Company.html?newsid=461
(press release and printable pictures)
---
Facebook:
https://www.facebook.com/Motorcycleparts.Hornig
YouTube:
http://www.youtube.com/user/MrHornig
Instagram: hornig.motorcycle.parts
https://www.instagram.com/hornig.motorcycle.parts/
---
Your readers could also be interested in:
20 anni di parti del motociclo Hornig
http://www.mhornig.com/Company.html?newsid=459
Lining your front mudguard for BMW R18
http://www.mhornig.com/Company.html?newsid=460
Touring windshield for BMW S 1000 XR (2020- )
http://www.mhornig.com/Company.html?newsid=456
Fork Crash Protectors for BMW RnineT (2021- ), RnineT Scrambler (2021- ), Pure (2021- ) & Urban G/S (2021- )
http://www.mhornig.com/Company.html?newsid=455
---
Mit freundlichen Grüßen,
Motorradzubehör Hornig GmbH
Gewerbepark Chammünster Nord C 5
93413 Cham
http://www.mhornig.de
Geschäftsführer: Hornig Helmut
Regensburg HRB 10330
Ust.Id.Nr. DE251397246
Tel: 09971 99 66 10
Fax: 09971 99 66 110
Zurück zur Newsletter-Übersicht