Mounting stand BMW R18 & Handlebar Risers BMW S1000XR (2020- )
In diesem Newsletter finden Sie:
- Mounting stand BMW R18 & Handlebar Risers BMW S1000XR (2020- )
Sollten Sie Anregungen für uns haben, oder Vorschläge, welche Themen wir in einem der nächsten Newsletter behandeln sollen, schreiben Sie uns einfach an
info@mhornig.de
---
Mounting stand BMW R18 & Handlebar Risers BMW S1000XR (2020- )
with this newsletter we would like to draw your attention to some of our most recent news, which could be interesting for you and your readers. You can also visit our social media appearances on Facebook, Instagram and Twitter.
---
Mounting stand
for BMW R18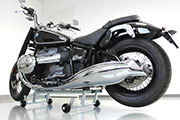 This assembly stand for the rear and the front of your BMW R18 is perfect for care, overwinter and servicing. The front part of the work stand is only fitted after the motorcycle has been jacked up at the rear. In the beginning, it is essential that you carry out the work steps with a second person for security! By means of the maneuvering set X518R2, which includes 4 pieces and is sold separately, you can shunt your motorcycle even in narrow space.
Mounting stand for BMW R18
398,00 Euro (incl. VAT) plus shipping
http://www.mhornig.com/Company.html?newsid=465
(press release and printable pictures)
---
Handlebar Risers with Offset
for BMW S1000XR (2020- )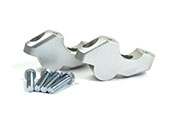 Raising the handlebar by 30mm results in a more upright, much more relaxed seating position. Moreover, the handlebar is brought 20mm closer to the rider which additionally improves driving comfort. The overall result is a noticeable increase in stamina and concentration. The length of the brake line etc. must be checked individually. The brake hose and the clutch cable are partly too short for this conversion. We recommend using our adapter 26872.
With EU street homologation!
Fits for handlebars with a diameter of 28mm!
Handlebar Risers with Offset for BMW S1000XR (2020- )
100,00 Euro (incl. VAT) plus shipping
http://www.mhornig.com/Company.html?newsid=466
(press release and printable pictures)
---
Facebook:
https://www.facebook.com/Motorcycleparts.Hornig
YouTube:
http://www.youtube.com/user/MrHornig
Instagram: hornig.motorcycle.parts
https://www.instagram.com/hornig.motorcycle.parts/
---
Your readers could also be interested in:
Inside Bag for BMW S1000XR (2020- )
http://www.mhornig.com/Company.html?newsid=463
Cooler screen for BMW R18
http://www.mhornig.com/Company.html?newsid=464
Tank bag for BMW R18
http://www.mhornig.com/Company.html?newsid=462
Handlebar bag for BMW R18
http://www.mhornig.com/Company.html?newsid=461
---
Mit freundlichen Grüßen,
Motorradzubehör Hornig GmbH
Gewerbepark Chammünster Nord C 5
93413 Cham
http://www.mhornig.de
Geschäftsführer: Hornig Helmut
Regensburg HRB 10330
Ust.Id.Nr. DE251397246
Tel: 09971 99 66 10
Fax: 09971 99 66 110
Zurück zur Newsletter-Übersicht