VStream Windscreen BMW R1250RT (2021- ) & Hornig catalogue 2022
In diesem Newsletter finden Sie:
- VStream Windscreen BMW R1250RT (2021- ) & Hornig catalogue 2022
Sollten Sie Anregungen für uns haben, oder Vorschläge, welche Themen wir in einem der nächsten Newsletter behandeln sollen, schreiben Sie uns einfach an
info@mhornig.de
---
VStream Windscreen BMW R1250RT (2021- ) & Hornig catalogue 2022
with this newsletter we would like to draw your attention to some of our most recent news, which could be interesting for you and your readers. You can also visit our social media appearances on Facebook, Instagram and Twitter.
---
VStream Windscreen
for BMW R1250RT (2021- )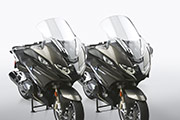 ZTechnik's popular VStream windscreens are offered in two heights for the all-new watercooled R1250RT! ZTechnik announces new VStream windshields for water-cooled BMW R1250RT. While the stock screen (also manufactured by National Cycle for BMW) does an admirable job, the patented VStream design is the ultimate windshield contour for comfort. VStream gets its name from the unique shape and dimensional contours molded into the screen. The "V" profile helps keeps the wind off your upper body and helmet. VStream windshields are made from tough Quantum-hardcoated polycarbonate. This high quality material, along with state-of-the-art manufacturing techniques, provides these windscreens' outstanding clarity and strength characteristics unmatched by any windscreen maker worldwide. Optically the VStream windscreen is clear with virtually no distortion. Best of all VStream windscreens are 30X more scratch resistant and have 30X greater crack and impact resistance than other aftermarket windscreens on the market made from commonly used acrylic or "aircraft plastic".
VStream Windscreen for BMW R1250RT (2021- )
259,90 / 289,90 Euro (incl. VAT) plus shipping
http://www.mhornig.com/Company.html?newsid=478
(press release and printable pictures)
---
New BMW motorcycle accessory catalogue by Hornig
ready for shipping!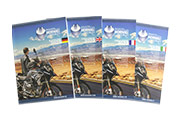 Our brand-new 2022 catalogue for motorcycle accessory is printed now and ready for shipping!
You can download or order it for free here:
https://www.motorcycleparts-hornig.com/Catalogue.html
In our new catalogue for 2022 you will find many high-quality and very useful accessory parts for your BMW motorcycle!
The catalogue is available in English, German, French and Italian language.
New BMW motorcycle accessory catalogue by Hornig
http://www.mhornig.com/Company.html?newsid=479
(press release and printable pictures)
---
Facebook:
https://www.facebook.com/Motorcycleparts.Hornig
YouTube:
http://www.youtube.com/user/MrHornig
Instagram: hornig.motorcycle.parts
https://www.instagram.com/hornig.motorcycle.parts/
---
Your readers could also be interested in:
Handlebar Risers 25mm for BMW R18, R18 Classic & Bobber
http://www.mhornig.com/Company.html?newsid=476
New BMW motorcycle accessory catalogue by Hornig
http://www.mhornig.com/Company.html?newsid=477
Crash bars for BMW R18
http://www.mhornig.com/Company.html?newsid=474
Handlebar Risers 25mm for BMW S1000R (2021- )
http://www.mhornig.com/Company.html?newsid=475
---
Mit freundlichen Grüßen,
Motorradzubehör Hornig GmbH
Gewerbepark Chammünster Nord C 5
93413 Cham
http://www.mhornig.de
Geschäftsführer: Hornig Helmut
Regensburg HRB 10330
Ust.Id.Nr. DE251397246
Tel: 09971 99 66 10
Fax: 09971 99 66 110
Zurück zur Newsletter-Übersicht